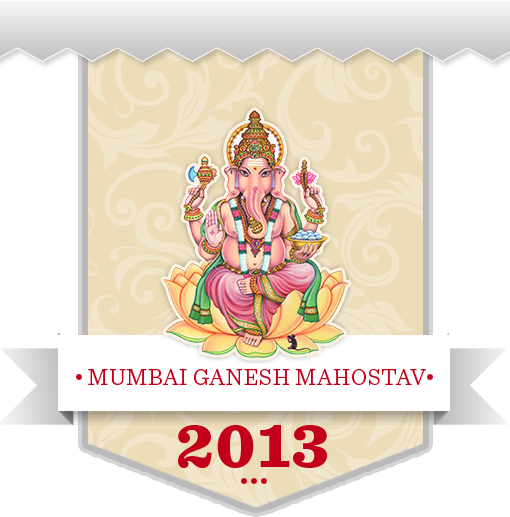 Mumbai ganesh mahostav
Mumbai Ganesh Mahotsav 2013 brings together for the first time Ganesha's from across the globe under one roof. It will showcase Ganesha's celebration from countries like Cambodia, China, Japan, Thailand, Mongolia, Bangladesh, Borneo, Malaysia, Nepal and Tibet. There will be wide range of exhibits on Forts of Maharashtra, Advancement of Indian Medical Science, Maharashtra Tourism, Himalaya Decor, Balleshwar Temple, etc. to name a few across 50,000 sq. feet area. This year 1008 couples stand a chance to attend "Akhanda Ganesh Hawan". The proceeds of this year will go towards Pali temple renovation and maintenance.
Exhibits at venue

PHOTO GALLERY

ganesh mahostav 2012

Mumbai Ganesh Mahotsav 2012 was based on the theme of Ashtavinayak Darshan, for which a huge replica of Lenyadricha Girijatmaj temple was erected. The Ashtavinayak Darshan is pilgrimage that covers the eight ancient holy temples of Ganesha which are situated around Pune ,each murti of Ganesha and his trunk are distinct from one another. Beyond the darshan there was an exhibition showing the story of freedom struggle of India and arms and ammunition. The work recognised with awards for Best Ganpati and Pandal from Times of India and BMC.
ABOUT LODHA FOUNDATION

At Lodha, we believe that good education is not only a necessity but a right every child should fully enjoy. A nation is built on the strength of its youth, and it is essential that everyone has equal access to quality education, enabling them to stand tall on their own feet.